An Iranian refugee has been bashed by two PNG immigration officers for staying late at the pub on Monday night (1 June), see photos below.
Mohsen was repeated punched and manhandled by the immigration officers as they abused him and threatened
to kill him.
However, the assault was witnessed by several supportive locals at the pub.
After a complaint about the assault, police attended the East Lorengau compound, yesterday, 2 June, but were unable to locate the immigration officers allegedly involved in the assault.
In spite of being found to be refugees, a curfew between 6.00pm and 6.00am is in place for those refugees who are living outside the detention centre. They are also banned from working or leaving Manus Island.
Around 40 refugees are presently being accommodated in East Lorengau and immigration authorities are pressuring refugees inside the detention to join them by restricting their access to medical, and phone and other services.
The assault comes less than two weeks since another refugee was seized by immigration officers and jailed in the Lorengau prison for daring to ask for a refugee visa.
Only one such document has ever been issued to any refugee.
"We do not have freedom here brother," one refugee at East Lorengau told the Refugee Action Coalition.
No resettlement
Earlier this year a refugee was prevented from travelling to Port Moresby, in March this year. In the letter (see below), the PNG immigration department admits, that "..there is currently no government sanctioned arrangement in place for your integration and resettlement in PNG."
The letter – dated 27 March – also says that the PNG government "are working very hard to ensure this policy is in place within the next month."
Two months later, there is no sign of any resettlement policy.
Around 100 refugees in the Manus detention centre, particularly those who were the victims of the violent attack in February 2014 that left Reza Barati dead, are refusing to be shifted to the accommodation at East Lorengau for fears of their own safety.
Witnesses to the death of Reza Barati are still being threatened by immigration authorities and by PNG locals.
Tensions are rising on Manus Island because pre-trial hearings for the two PNG nationals charged with the murder of Reza Barati have begun.
For more information contact Ian Rintoul 0417 275 713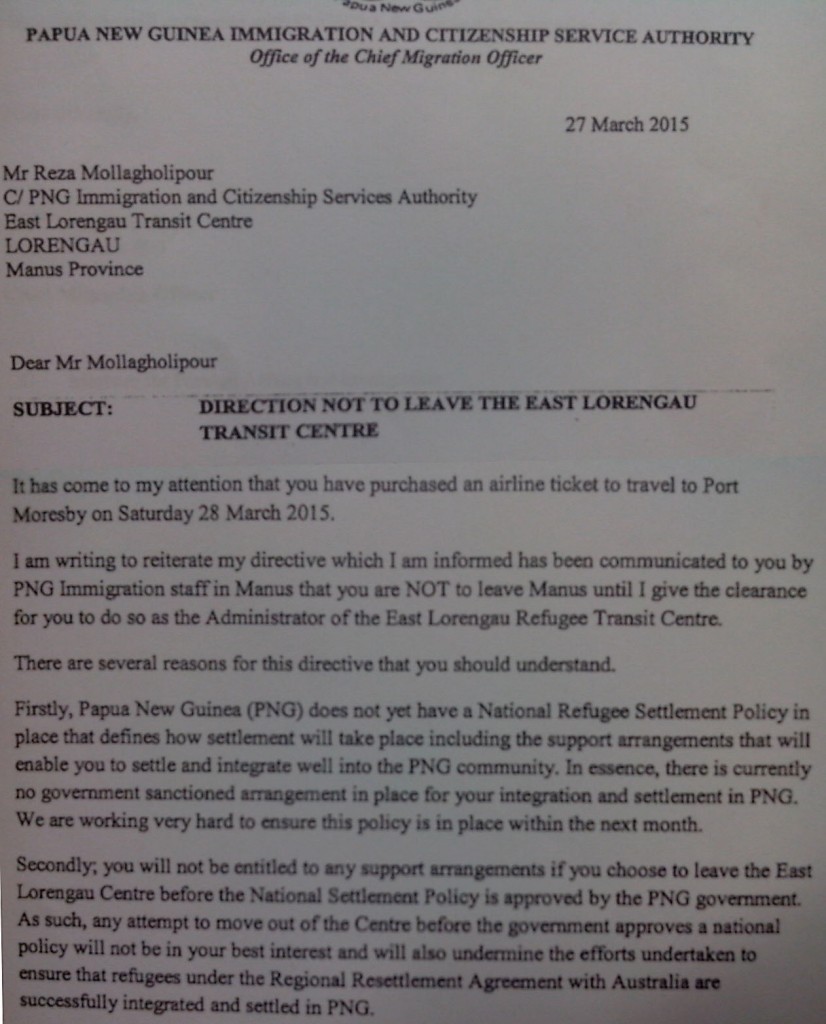 Category: Press releases